Latest Daily Current Affairs 10th July 2018 GK GS Bulletin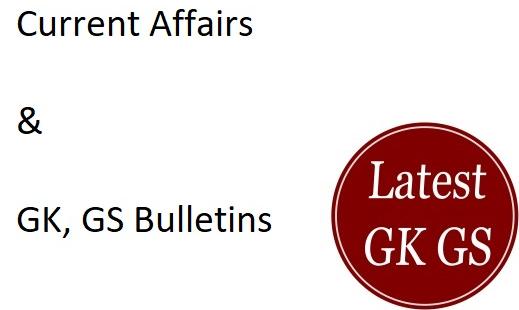 Latest Daily Current Affairs GK GS Bulletins
1. India & South Korea Signed Five MoUs in Science & Technology in New Delhi.
2. Indian Railways Introduces First Double Stack Dwarf Container Service from Rajkot Division, Western Railway
3. First ever 'India Tourism Mart' to be hosted in New Delhi from 16th to 18th September by the Ministry of Tourism
4. PM Narendra Modi and South Korean President Moon Jae-in visited Noida and inaugurated the 35-acre New Mobile manufacturing plant of Samsung at Noida, Uttar Pradesh
5. Union Minister for Chemicals & Fertilizers and Parliamentary Affairs, Shri Ananthkumar to inaugurate CIPET, Centre for Skilling & Technical Support (CSTS) and lay Foundation Stone of new CIPET Building at Doiwala, Dehradun
6. First ever meeting of the task force on eCommerce held in New Delhi
7. Uday Kumar Varma appointed as Broadcasting Content Complaints Council 'BCCC' member
8. Supreme Court: Delhi private hospitals to give free treatment to poor people
9. Union HRD Ministry: JEE (Main), NEET to be held twice a year, over multiple days
10. India & Nepal 2nd Meeting on Tourism Concluded in Kathmandu
11. Government set to launch Global Housing Construction Technology Challenge under PMAY (Urban)
12. North Eastern Council 67th plenary meeting held in Shillong, Meghalaya
13. 6th biennial World Cities Summit 2018 held in Singapore
14. Union Minister Dharmendra Pradhan has inaugurated New Bhubaneswar Railway Station.
15. Justice T. B. N. Radhakrishnan has been sworn-in as the new Chief Justice of the Hyderabad High Court.
16. UNCTAD meeting of the third intergovernmental group of experts on consumer protection will be held in Geneva, Switzerland.
17. The Muthoot Pappachan Group has appointed film actress Vidya Balan as brand ambassador for two years
18. RBI canceled the license of Alwar Urban Co-operative Bank
19. Veteran journalist J N Sadhu has passed away recently at the age of 94 years.
20. Famous Kumaoni folk singer Kabutari Devi has passed away recently at the age of 70 years.
21. Satyarup Siddhanta became 2nd Indian to scale world's highest volcano 'Mt Nevado Ojos del Salado'