India's first indigenous anti-nuclear medical kit developed by INMAS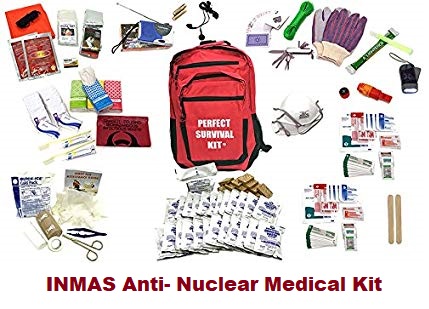 India's first indigenous anti-nuclear medical kit developed by INMAS: Details, Features, Purpose, Highlights
Institute of Nuclear Medicine and Allied Sciences (INMAS) has developed India's first indigenous anti-nuclear medical kit for protection against nuclear warfare or radioactive leakage.
The INMAS anti-nuclear medical kit will ensure protection from serious injury and aid faster healing of wounds due to nuclear warfare or radioactive leakage.
The anti-nuclear medical kit has been developed after 20 years of work by INMAS scientists. It has 25 items which include radioactive protectors which can absorb 80-90% of radiation, nerve gas agents, bandages that absorb radiation as well as tablets and ointments.
The anti-nuclear medical kit is seen as a potent alternative to similar imported kits that were till now procured from US and Russia at much higher prices.
The anti-nuclear medical kit has been developed for armed, paramilitary and police forces only as they are first ones likely to get exposed to radiation during nuclear, chemical and biomedical (NCB) warfare or rescue operation after the nuclear calamities.
Some important items of the anti-nuclear medical kit includes Prussian blue tablet; Ethylenediaminetetraacetic acid (EDTA) injection; Ca-EDTA Respiratory Fluid; Radioactive Blood Mopping Dressing; Radioactive urine/biofluid collector; Anti-gamma ray skin ointment; Amifostine injection and Indranil 150 mg tablet.
Institute of Nuclear Medicine & Allied Sciences (INMAS)
INMAS is a laboratory of Defence Research and Development Organisation (DRDO).
INMAS was established in 1961 and is located in New Delhi.
INMAS is involved in nuclear medicine research and responding to nuclear accidents and explosions.
Since 1968, Department of Nuclear Medicine in INMAS is offering two-year diploma in radiation medicine. It is the first formal training program in nuclear medicine in the world.