Indian Navy to conduct TROPEX Exercise 2019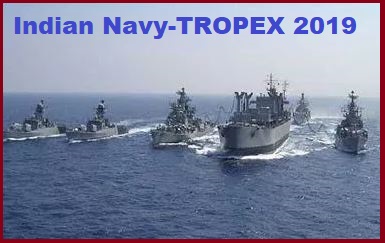 Indian Navy to conduct TROPEX Exercise 2019: Details, Aim, Schedule, Highlights
Indian Navy will conduct its flagship large-scale coastal defence exercise named as 'Theatre Level Operational Readiness Exercise' (TROPEX) from January to March 2019.
The TROPEX-2019 exercise aims to test the robustness of the entire coastal security apparatus.
As part of TROPEX exercise, the Indian Navy will conduct large-scale coastal defence exercise 'Exercise Sea Vigil'. This exercise will involve all stakeholders across mainland and island territories.
The TROPEX-2019 exercise will see the participation of all operational ships, submarines, and aircraft as well as units of Indian coast guards (ICG), Indian Army and Indian Air Force (IAF).
In TROPEX-2019 exercise over 45 ships from both Western and Eastern Naval Commands of Indian Navy, including aircraft carrier INS Vikramaditya, submarines including nuclear powered Chakra, naval aircraft MiG-29K, helicopters as well as ships from Indian Coast Guard. Since its a tri-service exercise, troops from Indian Army and fighter aircraft from Indian Air Force including SU-30 MKI, Jaguars and AWACs will also participate.
About Theatre Level Operational Readiness Exercise (TROPEX)
TROPEX is a yearly exercise that takes place on Western Seaboard. It is conducted to test various aspects of not only joint combat capabilities but also to test the capabilities of three services in a war situation.
TROPEX helps in validating operational warfighting concepts and provides very important lessons that will help services to further sharpen their skills. It also aim to strengthen interoperability and joint operations in a complex conflict situation.
TROPEX provides an opportunity to test the combat capability of the Indian Navy, Indian Army, IAF and ICG. In the current security scenario and with India's increased role in the Indian Ocean Region (IOR) and Indo-Pacific, TROPEX assumes great significance.