Indian Navy Inducts First Deep Submergence Rescue Vehicle 'DSRV': Details, Features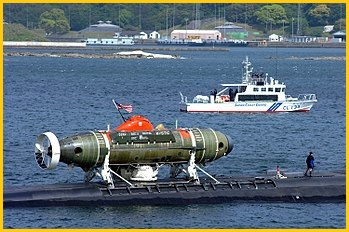 Indian Navy Inducts First Deep Submergence Rescue Vehicle 'DSRV': Details, Features, Significance, Highlights
Indian Navy inducted its first Submarine Rescue System with Deep Submergence Rescue Vessel (DSRV) along with associated equipment at the western naval dockyard in Mumbai, Maharashtra (west coast of India). It is first of the two non-tethered DSRVs ordered by Indian Navy.
With this, India joined a select list of international navies (US, Russia, Japan, South Korea, China, Singapore UK, Sweden, and Australia). Its induction will enhance Indian Navy's operational capabilities for search, locate and provide assistance to downed or disaster-struck or distressed submarines at high sea.
About Deep Submergence Rescue Vessel (DSRV)
The DSRVs are developed by Scotland-based JFD, a part of James Fisher and Sons Plc In March 2016. JFD had won the contract of 193 million pounds for the supply of two sets of non-tethered DSRV and 25 years of maintenance.
These DSRVs are a third-generation system, considered to be the most advanced system currently in operation globally. It is capable of undertaking rescue from a disabled submarine up to 650 meters depth. It is operated by a crew of three, can rescue 14 personnel from the disabled submarine at the time.
The DSRVs complete with an associated kit in fly away configuration can be crucial in quickly locating submarines through a vast expanse of sea and can be mobilised by air and water for rapid rescue. It can be deployed at short notice for providing assistance to submarines in distress.
Indian Navy two DSRVs will be based on West and East Coast of India respectively. The first DSRV will be operated and deployed by the crew of Indian Navy's newly formed Submarine Rescue Unit (West) from its base in Mumbai. The second DSRV is out for delivery and is expected to reach Visakhapatnam soon. It will be operational by April 2019.