NITI Aayog Women Transforming India Awards 2018 Event Theme, Details, Date, Winners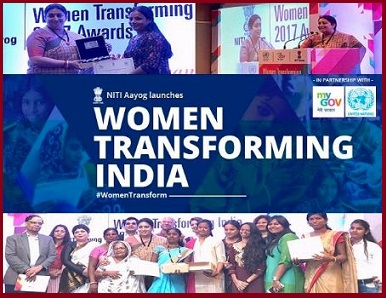 NITI Aayog Women Transforming India Awards 2018 Event Theme, Details, Date, Winners
The 3rd edition of Women Transforming India Awards-2018 to be organized by NITI Aayog in association with the United Nations on 16th December 2018 in India.
On this occasion, NITI Aayog will also launch the upgraded portal of Women Entrepreneurship Platform. Vice President M Venkaiah Naidu will present the awards to the women.
The theme for this year awards is 'Women and Entrepreneurship' and 15 winners have been selected.
About Women Transforming India Awards
The Women Transforming India Awards were launched in 2016 to recognize the exceptional women who are working hard and making difference in lives of others. It invites the stories of women entrepreneurs from the country, who are doing innovative work to address the key development challenges and impacting the communities.
The nominations of the awards were opened on the launch of Women Entrepreneurship Platform in March 2019. The event will include panel discussions consists of entrepreneurs, investors, and experts.