Shree Saini Wins Miss India Worldwide 2018 Title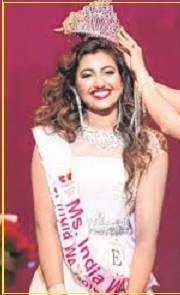 Shree Saini Wins Miss India Worldwide 2018 Title: Details, Profile, Highlights
Punjab-born, Indian-American Shree Saini has won Miss India Worldwide-2018 title. She was crowned at this pageant held in the Fords City of New Jersey, United States.
Australian Sakshi Sinha and Anusha Sareen from the United Kingdom were declared first and second runner-ups respectively in the 27th edition of the Miss India Worldwide-2018 pageant
About Miss India Worldwide 2018
Miss India Worldwide pageant is organised by the New York-based India Festival Committee (IFC) which is headed by Dharmatma Saran in New York City, USA.
Miss India Worldwide is the oldest and largest event for the Indian Diaspora community. It draws contestants from India and from among members of the Indian Diaspora residing in different countries.
Miss India Worldwide -2018 was the 27th edition of this annual global pageant for people of Indian origin. Girls of Indian-origin from as many as 17 countries participated in this annual beauty pageant.
India's Mandeep Kaur Sandhu, who hails from Haryana, was crowned as Mrs. India Worldwide 2018. Jeya Priya Pandian from Malaysia and Kavita Malhotra Pattani from the USA were declared as the first and second runner-ups of the Mrs. India Worldwide 2018 respectively.
The next 28th edition of the Miss India Worldwide competition will be held in Mumbai in 2019