55th anniversary of Sashastra Seema Bal celebrated in New Delhi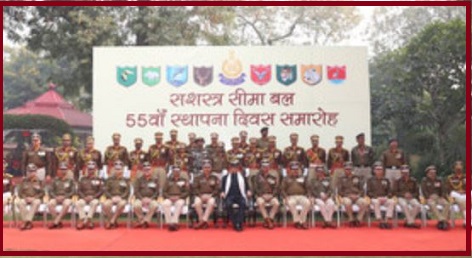 55th anniversary of Sashastra Seema Bal celebrated in New Delhi: Details, Highlights
The 55th anniversary of Sashastra Seema Bal (SSB) was celebrated in New Delhi on 24th December 2018.
Union Minister of State for Home Affairs, Kiren Rijiju, was the chief guest and he witnessed the raising day parade along with delegates from Nepal and Bhutan on the occasion.
The event concluded with parading of 52 international medallists from SSB, demonstration of martial arts and mountaineering skills and thrilling performance by dared devil team, a motorcycle squad of SSB.
About Sashastra Seema Bal (SSB)
After the Chinese incursion of 1962, it was felt that the borders of the country could not be protected with the force of rifles alone. The government felt the backing and resolute will of a committed border population together with an in-depth understanding and familiarity of the terrain as well as the culture and ethos of the border population was required to defend the borders effectively.
As a result, a unique, unconventional yet specialized organization, which would function in the far, flung, vulnerable, strategic, remote, climatically and topographically difficult border areas and motivate the border population across several states towards the cause of protecting India's national sovereignty was conceived as Special Service Bureau in 1962 and eventually created in March 1963.
The SSB was renamed as the Sashastra Seema Bal in January 2001. SSB is part of the para-military force of India.