India officially took operations of Iran's strategic Chabahar Port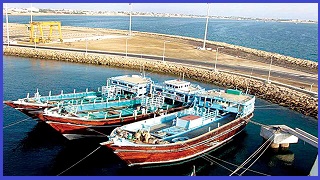 India officially took operations of Iran's strategic Chabahar Port: Details, Features, Highlights
India has formally taken over operations of Iran's strategic Chabahar Port. Iran has formally handed over the port to India during a first meeting of the follow-up committee for the implementation of the Chabahar Agreement between Iran, Afghanistan, and India held recently in the port city Tehran.
The Chabahar Agreement was signed in June 2015 and approved by Iran's Guardian Council in November 2016. Chabahar is being seen as a gateway for trade by India, Iran, and Afghanistan with Central Asian countries.
Iran's Chabahar port is located on the Gulf of Oman and is the only oceanic port of the country. The port gives access to the energy-rich Persian Gulf nations' southern coast.
The first and foremost significance of the Chabahar port is the fact that India can bypass Pakistan in transporting goods to Afghanistan. Chabahar port will boost India's access to Iran, the key gateway to the International North-South Transport Corridor that has sea, rail and road routes between India, Russia, Iran, Europe, and Central Asia.
Chabahar port will be beneficial to India in countering Chinese presence in the Arabian Sea which China is trying to ensure by helping Pakistan develop the Gwadar port. Gwadar port is less than 400 km from Chabahar by road and 100 km by sea.
India Ports Global Limited
India Ports Global Limited Company has opened its office and took over operations at the Shaheed Behesti port at Chabahar. It is a private registered company and classified as Union Government Company. It is involved in Sea and coastal water transport.