Sheikh Hasina becomes Prime Minister of Bangladesh for the third consecutive term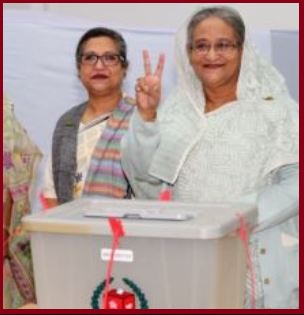 Sheikh Hasina becomes Prime Minister of Bangladesh for the third consecutive term: Details, Highlights
Prime Minister Sheikh Hasina's alliance won Bangladesh's election with a thumping majority giving her a third straight term.
The alliance dominated by her Awami League won 287 of the 298 seats for which results have been declared, the commission said. There are 300 constituencies in the country.
The main opposition Bangladesh Nationalist Party (BNP), which boycotted the last poll in 2014, won just 6 seats.
Significance for India
India and Bangladesh shares a 4,000-km long border that has been marred by ethnic conflicts. Also, Bangladesh is a key component of India's "Look East" policy.

Under Sheikh Hasina's regime, India has seen improved bilateral ties and boundary disputes have been settled amicably.

Besides this, strong security cooperation was established between the two nations and significant progress was made in settling differences over the Teesta River water sharing. The bilateral trade between the two nations and India's investment in Bangladesh has also picked up.

Also, India's relationship with the BNP-Jamaat alliance government during 2001-06 was not positive, owing to attacks on Hindus and anti-India activities in the country.
Bangladesh
Capital: Dhaka (Largest City)
Currency: Taka
National Language: Bangla
President: Mohammad Abdul Hamid
Prime Minister: Sheikh Hasina