India and France Signed 11 Agreements on 10th March 2018 Details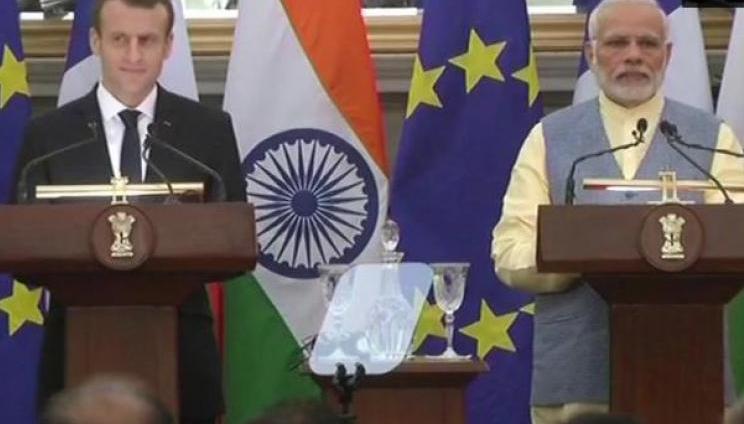 India & France Signed 11 Agreements on 10th March 2018- Details
India and France have signed 11 Key Agreements mainly in the strategic areas of Security, Nuclear Energy, Protection of Classified Information, Urban Development and Education on 10th March 2018 in New Delhi.
The Agreements were signed after bilateral talks between Prime Minister, Narendra Modi and French President Emmanuel Macron after a bilateral meeting at the Hyderabad House in New Delhi.
The First Agreement was signed on Prevention of Illicit Consumption and Reduction of Illicit Traffic in Narcotic Drugs, Psychotropic Substances and Chemical Precursors and combating the financing of terrorism.
The Second Agreement was signed on Migration and Mobility Partnership of India- France.
The Third Agreement was signed to facilitate Mutual Recognition of Educational & Academic Qualifications.
The Fourth Agreement was signed for the provision of reciprocal logistics support between India-France Armed Forces.
The Fifth Agreement was signed for cooperation in the field of Sustainable Urban Development. It aims to exchange information on smart city development, urban mass transportation systems, urban settlements & utilities etc.
The Sixth Agreement was signed regarding the exchange and reciprocal protection of classified or protected information.
The Seventh Agreement was made for Implementing Arrangement for pre-formulation studies of a Maritime Awareness Mission.
The Eighth, Industrial Way Forward Agreement was signed between NPCL and EDF, France for construction of six nuclear reactors at Jaitapur, Maharashtra.
The Ninth, Credit Facility Agreement was signed of Euros 100 million for funding of Smart City Projects through a Challenge Process.
A Bilateral Arrangement Agreement was signed between India-France for cooperation in the concern of Hydrography and Maritime Cartography.
A Letter of Intent was signed between both the countries for the creation of a permanent Indo-French Railways Forum.