Paul Romer Profile, Early Life, Education, Economist Career, Achievements, Awards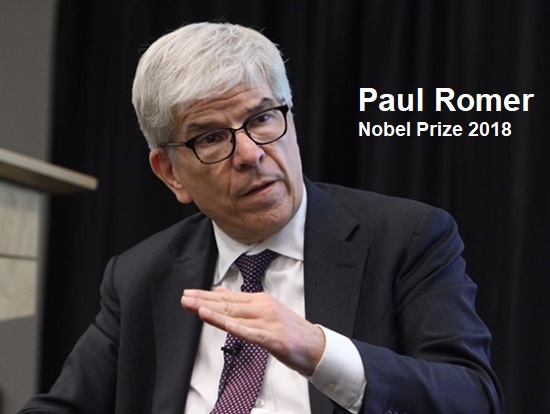 Nobel Prize in Economy Sciences 2018 Winner Paul Romer Biography, Profile, Early Life, Education, Career, Achievements, Awards
Paul Romer was born on 7th November 1955 in the United States. He is an American Economist. He is an ex-World Bank chief economist. He graduated from Phillips Exeter Academy and earned BSc in mathematics. From the University of Chicago, he completed his MA and Ph.D. in economics.
Romer's most important work is in the field of economic growth. He became world bank chief economist in October 2016. He resigned from Chief economist from world bank on 24 January 2018. In
In his latest contribution in the economic field, He wants to develop Charter Cities for developing countries in the world.
Paul Romer has done the work for integrating technological innovations into long-run of macroeconomics analysis for that he was awarded the Nobel Memorial Prize of Economics in 2018.
Paul Romer shared Nobel prize in the field of economics with William Nordhaus.
Based on his research the one message came out as a solution for climate change is to collect tax on the carbon emission.