Updated By: LatestGKGS Desk
IAF gets 1st Batch of Boeing AH-64E Apache Helicopters: Features, Capabilities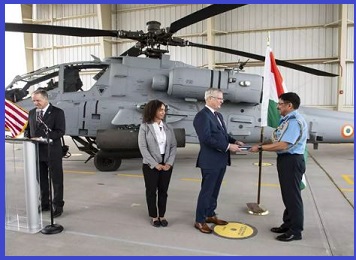 IAF gets 1st Batch of Boeing AH-64E Apache Helicopters: Features, Capabilities, Significance
Boeing AH-64E Apache Guardian Attack helicopters first batch has reached at Indian Air Force's (IAF's) Hindon airbase in Ghaziabad, Uttar Pradesh. The 1st batch consists of 4 out of 22 choppers ordered by India from the United States.
In coming week 4 more Apaches will be arriving and thereafter, 8 will be moved to Pathankot Air Force Station for their formal induction in IAF in September 2019.
AH-64E Apache Helicopter is the world's most advanced Multi-Role Combat Helicopter. It is used by the US Army as well as by the growing number of international defense forces.
Since the aircraft entered production Boeing has delivered over 2,200 Apaches to customers around the world so far. India is 14th nation to select Apache.
Besides greater thrust and lift, joint digital operability, cognitive decision aiding, and improved survivability AH-64E Apache is uniquely suited to meet commander's needs such as security, reconnaissance, peacekeeping operations as well as the lethal attack in both land and littoral environments all without reconfiguration.
AH-64E Apache Helicopter is a most modern variant of Apache and is also flown by U. S. Army.
AH-64E Apache Helicopter has latest technology insertions that maintain its standing as the world's best attack helicopter.
AH-64E Apache Helicopter is only available to combat helicopter with a spectrum of capabilities for virtually any mission requirement.