Updated By: LatestGKGS Desk
Government of India notified Indian States & UTs to ban e-cigarettes: Details, Aim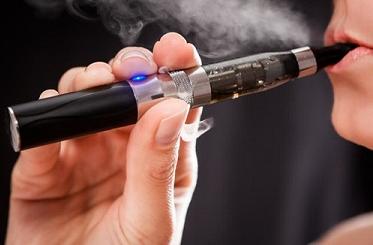 Government of India notified the Indian States & UTs to ban e-cigarettes: Details, Aim, About, Background
Union Ministry of Health and Family Welfare issued an advisory to all states and Union Territories to not allow manufacture, sale, and advertisement of e-cigarettes and other Electronic Nicotine Delivery Systems (ENDS).
It also has issued warning that use e-cigarettes and other ENDS devices pose a great health risk to the public at large, especially to children and pregnant women. Punjab, Karnataka, Kerala, Mizoram, Jammu and Kashmir, Uttar Pradesh and Bihar already have prohibited manufacture, import, sale, and distribution of e-cigarettes and ENDS.
About e-cigarettes and ENDS
ENDS are devices that heat the solution to create the aerosol, which also frequently contains flavors, usually dissolved into propylene glycol or and glycerin. e-cigarettes (electronic cigarettes) are the most common prototype of ENDS.
These devices do not burn or use tobacco leaves but instead vaporize solution, which user then inhales. The main constituents of the solution are nicotine, propylene glycol (with or without glycerol and flavoring agents).
Background
According to World Health Organisation (WHO) report on Global Tobacco Epidemic 2017, 30 countries like Mauritius, Australia, Singapore, South Korea, Sri Lanka, Thailand, Brazil, Mexico, Uruguay, Bahrain, Iran, Saudi Arabia and UAE have already banned ENDS.