Updated By: LatestGKGS Desk
Magnus Carlsen wins World Chess Championship 2016 for 3rd time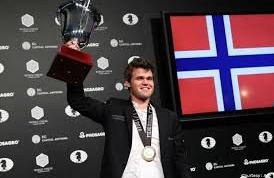 Magnus Carlsen wins World Chess Championship 2016 3rd time in a row defeating Sergei Karyakin
Two times chess World champion Magnus Carlsen wins World Chess Championship for the third time.
Magnus wins against Russian 26 year old Sergei Karyakin where Carlsen used his queen to checkmate his opponent.
Magnus Carlsen wins against Sergei Karyakin, both wins prize money
Hunders of fans joined from Russia, Norway, United States and other countries to look at the World Championship.
Every person was charged $100 as the entrance fee to join the Cahmpionship.
Magnus Carlsen won the World Championship organised by International Chess Foundation in the year 2013 and 2014 beating Indian Vishwanathan Anand.
The competition ended in the dramatic tiebraker after winning apiece and nine draws.
Norwegian also won against US Grandmaster Hikaru Nakamura in October in a tournament.
Magnus Carlsen was awarded with 555,000 euros as prize money while Sergei Karyakin was awarded with 450,000 euros.
Latest Magnus Carlsen Updates