Updated By: LatestGKGS Desk
World Kidney Day Celebrations On 14th March 2019 Theme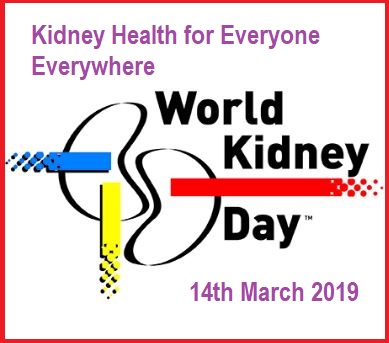 World Kidney Day Celebrations On 14th March 2019 Theme, Details, Aim, Significance, Highlights
World Kidney Day is observed every year on the second Thursday of March around the world to highlight the importance of the kidneys and reducing the frequency and impact of kidney disease and its associated health problems.
World Kidney Day this year was observed on 14th March 2019 (Thursday).
World Kidney Day 2019 theme is "Kidney Health for Everyone Everywhere".
World Kidney Day is observed by a joint initiative of the International Society of Nephrology (ISN) and the International Federation of Kidney Foundations (IFKF).
World Kidney Day was first celebrated in the year 2006.
Measures To Keep Kidney's Healthy
Encourage and adopt healthy lifestyles (access to clean water, exercise, healthy diet, tobacco control. Many types of kidney diseases can be prevented, delayed and /or kept under control when appropriate prevention measures are in place.
Make screening for kidney diseases a primary healthcare intervention including access to identification tools (e.g. urine and blood tests). Screening of high-risk individuals and early diagnosis and treatment is cost-effective to prevent or delay end-stage kidney diseases.
Ensure kidney patients receive basic health services they need (e.g. blood pressure and cholesterol control, essential medications) to delay disease progression without suffering financial hardship.
Call for transparent policies governing equitable and sustainable access to advanced health care services (e.g. dialysis and transplantation) and better financial protection (e.g. subsidies) as more resources become available.