FAME II Scheme Details, Features, Aim, Latest Updates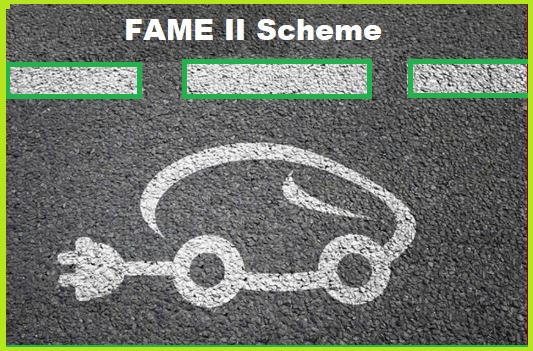 FAME II Scheme Details, Features, Aim, Latest Updates
Government of India has launched 'FAME II Scheme' to boost the faster adoption and manufacturing of hybrid and electric vehicles in the country.
FAME II Scheme aims to boost electric mobility and increase the number of electric vehicles in commercial fleets. The outlay of ₹10,000 crore has been made for three years till 2022 for FAME 2 scheme.
The government will offer incentives for electric buses, three-wheelers, and four-wheelers to be used for commercial purposes.
Plug-in hybrid vehicles and those with a sizeable lithium-ion battery and electric motor will also be included in the scheme and fiscal support offered depending on the size of the battery.'
FAME II Scheme will also help to improve the charging infrastructure
Recently, the Confederation of Indian Industry (CII) has estimated that India can save 64% of anticipated road-based mobility-related energy demand and 37% of carbon emissions in 2030 by pursuing a shared, electric, and connected mobility future.
This reduction in energy demand would result in the reduction of 156 million tonnes of oil equivalent (Mtoe) in diesel and petrol consumption for that year and net saving of approximately $60 billion in 2030 at present oil prices.
Further, this would give impetus to India's vision of reducing oil imports by 10% by 2022.
Background
FAME India is a part of the National Electric Mobility Mission Plan. The main thrust of FAME is to encourage electric vehicles by providing subsidies. FAME focuses on 4 areas i.e. Technology development, Demand Creation, Pilot Projects and Charging Infrastructure.