Updated By: LatestGKGS Desk
3 June: World Bicycle Day Celebrations 2019 Theme, Aim, Significance, History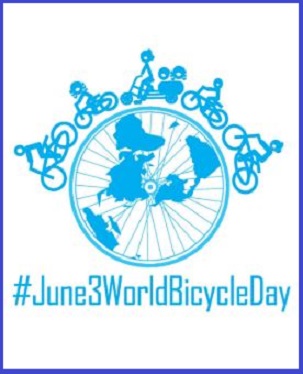 3 June: World Bicycle Day Celebrations 2019 Theme, Aim, Significance, History
World Bicycle Day (WBD) is celebrated every year on 3rd June around the world to encourage the uniqueness, longevity, and versatility of the bicycle.
World Bicycle Day highlights the importance of a bicycle which can serve as a tool for development and as a means not just of transportation but also of access to education, health care, and sport.
World Bicycle Day was declared by the United Nations with a resolution A/RES/72/272 in April 2018.
The first official World Bicycle Day (WBD) was celebrated by the United Nations (UN) on 3rd June 2018 to encourage a simple, affordable, reliable, clean and environmentally fit sustainable means of transportation.
The bicycle has a positive impact on climate and social engagement that gives the user an immediate awareness of the local environment;
Last year in 2018, Vice President M Venkaiah Naidu flagged off a cycling event at Connaught Place in New Delhi Nearly five thousand cyclists participated in the 8km long event. New Delhi Municipal Council has organized the event in association with World Cycling Alliance.
Latest World Bicycle Day Updates