President of India Kovind inaugurates 13th edition of CII Agro Tech India-2018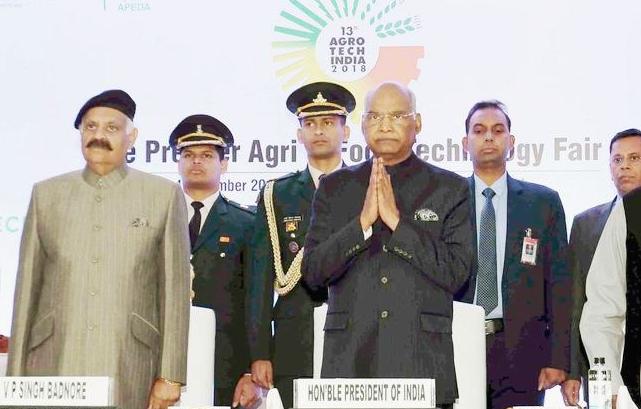 The 13th edition of CII Agro Tech India-2018 inaugurated by the President of India Ram Nath Kovind in Chandigarh
President of India Ram Nath Kovind inaugurated the 13th edition of CII Agro Tech India-2018 on Saturday in Chandigarh.
The President said that Indian agriculture needs a renewal of its marriage with contemporary technology; protection against climate change, price fluctuations and demand shocks; and sustained investment by and partnership with business. Together these will enhance agricultural value and competitiveness-as well as lead to better incomes.
Today a strong relationship is emerging between agriculture and the service sector. Biotechnology, nanotechnology, data science, remote-sensing imaging, autonomous aerial and ground vehicles, and artificial intelligence hold the key to generating more value for agriculture. The president said that the Agro Tech India-2018 will promote specific partnerships that will benefit India's farmers.
Pointing to the issue of pollution due to stubble burning, the President said the farmers of Punjab and Haryana are a matter of pride for our country. Today we are facing a problem related to the disposal of crop residue and of safe and clean removal of husk or stubble. It is for all of us, including the state governments, the skilled and large-hearted farmers, and other stakeholders, to come up with a solution and no doubt technology will help us find a solution.