Updated By: LatestGKGS Desk
Indian Navy Oldest carrier INS Viraat retires, sent to breaking yard Alang, Gujarat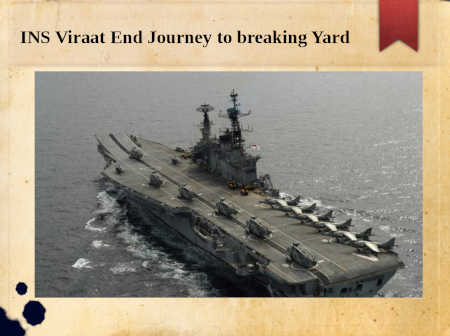 End journey of INS Viraat Details, Features, Services, dismantling at breaking yard Alang, Gujarat.
The breaking of the world's oldest aircraft carrier INS Viraat will be started soon in breaking yard Alang, Gujrat.
Officially, INS Viraat was retired on 6 March 2017 after serving almost thirty years. In last year July, the central government said in Parliament that the decision of scrap INS Virat has been taken in proper consultation with the Indian Navy.
History, Dimensions, War role-play, Services and other features of INS Virat carrier:-
→ INS Viraat is 226meter long and 49 meters wide.
→ It is popularly known as "WAVES ALEXANDER".
→ Before serving to Indian Navy he served in the Royal Navy of Britain for 25 years.
→ Its motto was "Jalmev yasya, balamev tasya" which means 'The one who occupies the sea is the most powerful' .
→ INS Viraat had facilities like a library, gym, ATM, TV and video studio, hospital, dental treatment center, and sweet water distillation plant. Due to all these facilities, it is also known as a moving city.
→ When there is an attack on the Indian Parliament in 2001, Viraat had a role in 'Operation Parakram' and in this operation, he traveled almost 1,094,215 kilometers in 27 rounds of the world.
→ INS Viraat is also included in the Guinness book of the world record for the only ship in the world that was being used even after being so old and in better condition. It is also known as 'Great old Lady'.