Updated By: LatestGKGS Desk
Russia-China: Joint Naval Exercise, PLA, Russian Federation Aldar, Details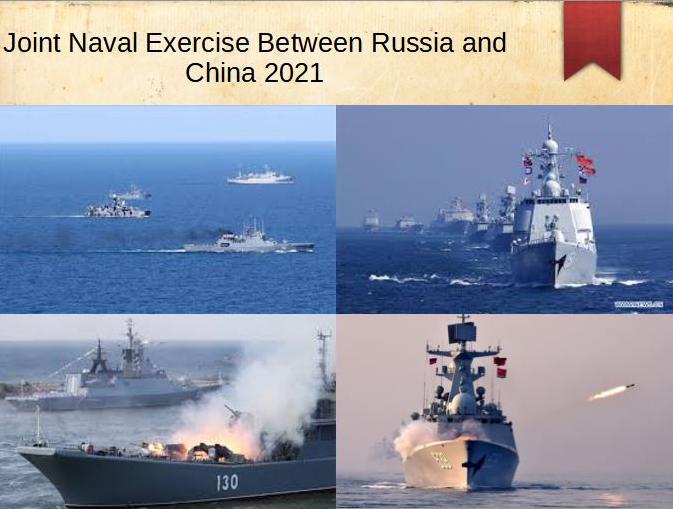 A Joint Naval Exercise Between Russia And China 2021: Details, History
A ceremony marking the start of Joint Sea-2021, a joint naval exercise between China and Russia, took place on October 14 in waters near Russia's Peter the Great Bay.
Type 055 destroyer Nanchang, Type 052D destroyer Kunming, Type 054A frigates Binzhou and Liuzhou, and Type 903A comprehensive supply ship Dongpinghu are among the Chinese People's Liberation Army (PLA) warships participating. For the first time, the Type 055 destroyer Nanchang 101 is participating in a joint drill with a foreign navy. During the practice, the Chinese fleet's command ship is a Type 055 destroyer.
The Pacific Fleet's warships and support vessels include the large anti-submarine ship Admiral Panteleev, the corvettes Aldar Tsydenzhapov and Gromkiy from the project 20380 Hero of the Russian Federation Aldar Tsydenzhapov and Gromkiy, two base minesweepers, the submarine Ust- Bolsheretsk, as well as a missile boat and a rescue tug.
Joint sea exercise 2021
The Joint Sea-2021 practice takes place at the same time as the Malabar naval drill in the Bay of Bengal, and just after six countries, including the United States, the United Kingdom, and Japan, conducted maneuvers in the South China Sea and neighboring territories.
The first combined naval drills between Russia and China took place in the Yellow Sea in August 2005. They were taking part in the large-scale military exercises known as Peace Mission 2005, which were arranged under the aegis of the Shanghai Cooperation Organization (SCO). Beyond the SCO, the Joint Sea yearly naval exercises have been performed since 2012, with the goal of enhancing Russia and China's military capability to jointly tackle threats at sea.
Due to stringent measures in place in response to a new coronavirus epidemic, the Joint Sea exercise was canceled in 2020.