Updated By: LatestGKGS Desk
PM Narendra Modi inaugurated new ASI Headquarters 'Dharohar Bhawan' in New Delhi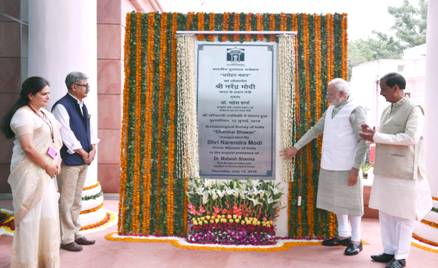 PM Narendra Modi inaugurated new ASI Headquarters 'Dharohar Bhawan' in New Delhi- Details
The Prime Minister, Narendra Modi, inaugurated the new Headquarters building of the Archaeological Survey of India (ASI) 'Dharohar Bhawan', on 12th July 2018 at Tilak Marg in New Delhi.
PM Narendra Modi on the occasion proclaimed that the Archaeological Survey of India (ASI) has performed significant work over the course of the last 150 years or so.
ASI new Headquarters 'Dharohar Bhawan' has been equipped with modern facilities, including energy-efficient lighting and rainwater harvesting.
It houses authentic records related to archaeology, such as ASI reports, etc., diary of Alexander Cunningham (founder of ASI), John Marshall, etc. It also has the original collection of religious books and books on the cultural heritage of India, such as sacred books on Hindus, Manusmiti, Kautilya's Athasastra.
ASI Dharohar Bhawan also includes a Central Archaeological Library with a unique collection of about 1.5 lakh books and journals. The library contains India's ancient past, allied subjects, and complete history of Indian state's.
The library also preserves portfolios related to Ajanta, Ellora and many sites of archaeological importance, Large collection of books on Archaeology, Epigraphy, Indology, Indian culture and its past, etc
The library here is the best place for researchers who are interested to undertake research work in the field of Archaeology, Religious and Cultural perspective of India.