Updated By: LatestGKGS Desk
National Biofuel Policy Features, Reduction of Fuel Prices, Benefit for Farmers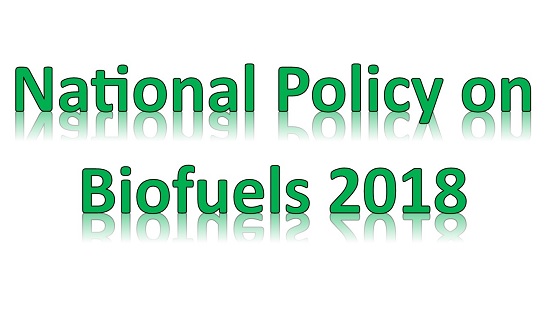 National Biofuel Policy allows the use of damaged foodgrains, rotten potatoes, corn, sugar beet and other organic waste (biomass) use for Biofuel production
The Cabinet of Indian Government approved the National Policy on Biofuels which allows doping of ethanol produced from damaged foodgrains, rotten potatoes, corn and sugar beet with petrol to cut oil imports by Rs 4,000 crore this year alone.
The Policy expands the scope of raw material for ethanol production by allowing the use of sugarcane juice, sugar-containing materials like sugar beet, sweet sorghum, starch-containing materials like corn, cassava, damaged food grains like wheat and broken rice, and rotten potatoes.
By reducing crop burning & conversion of agricultural residues/wastes to biofuels there will be a further reduction in Green House Gas emissions.
It is estimated that annually 62 million tonnes of municipal solid waste gets generated in India. There are technologies available which can convert waste/plastic and municipal solid waste to drop in fuels. One ton of such waste has the potential to provide around 20 percent of fuel.
Farmers are at a risk of not getting appropriate price for their produce during the surplus production phase. Thus conversion of surplus grains and agricultural biomass can help in price stabilization