Updated By: LatestGKGS Desk
Pradhan Mantri Jan Arogya Yojana Objective Feature, Era of Quality Healthcare for All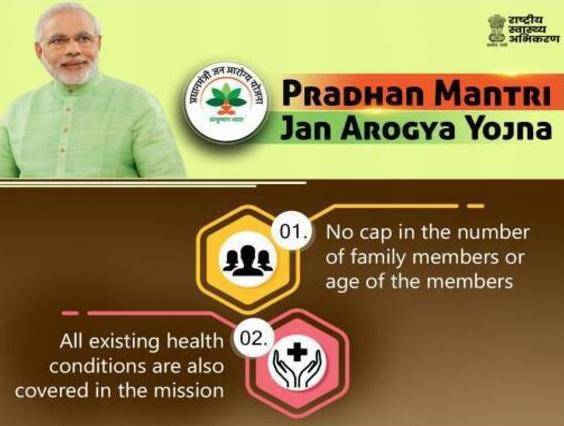 Pradhan Mantri Jan Arogya Yojana (PMJAY) Abhiyaan Details, Features, Objectives, Era of Quality Healthcare facility for common people
Pradhan Mantri Jan Arogya Abhiyaan will give the poor in India, access to quality healthcare facilities. More than 10 Crore vulnerable families would enjoy excellent medical facilities. Ayushman Bharat would cover 50 Crore beneficiaries with a health cover of Rs 5 Lakh per family per year.
The beneficiaries of Ayushman Bharat are identified according to the SECC (Socio-Economic Caste Census) and the target will be the poor and deprived rural families in India and the identified occupational category of the families of urban workers. More than 8 Crore families in rural areas and 2 Crore families in urban areas will benefit from Ayushman Bharat.
Prime Minister Narendra Modi's ambitious healthcare scheme Pradhan Mantri Jan Arogya Abhiyaan, also known as Ayushman Bharat is slated to be rolled out from September 25 on the birth anniversary of Pandit Deendayal Upadhyay.
The healthcare program has included several principles, including purposes for which personal data can be used. The beneficiaries of the scheme can demand access to the copies of their personal data or any other information on activities carried out with their personal data. They also have rights to ask for restriction of access or withdraw their consent for accessing their personal data.
The beneficiaries under the scheme can avail benefits in both public and impaneled private facilities. The scheme subsumed centrally-funded state-level Rashtriya Swasthya Bima Yojana, which provided a coverage of Rs 1-2 lakh to about 3.63 crore families in the fiscal year 2016-17.
A total of 29 states and union territories have inked the Memorandum of Understanding (MoU) and have started working on the implementation of the scheme.
Latest Pradhan Mantri Jan Arogya Yojana (PMJAY) Updates