Updated By: LatestGKGS Desk
Securing India The Modi Way book features, author, table of contents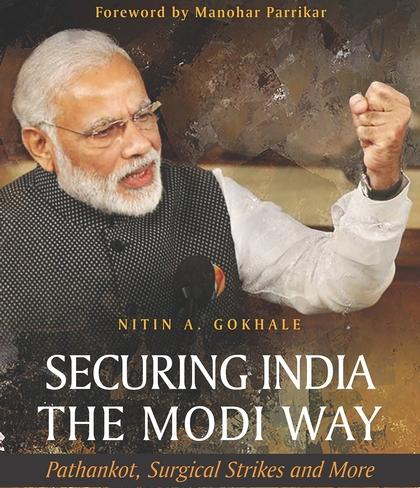 Securing India The Modi Way book by Nitin A. Gokkhle features, author, Book about Doklam tension solution between India and China
Vice President M. Venkaiah Naidu releases Securing India The Modi Way book on Friday, 29th September 2017. The book Securing India The Modi Way is authored by Nitin A. Gokhle.
Securing the India In Modi Way talk about Narendra Modi government steps and successful operations during the last 3 years of governance.
Modi Government handles Pathankot, Surgical Strikes, and Doklam like high tension war-prone international issues with neighboring countries in a dignified way.
According to a shocking revelation from the book, the foundation of the solution of the Doklam tension laid down just after the meeting between Narendra Modi and Chinese counterpart Xi Jinping at G20 summit.
Both leaders, Narendra Modi and Xi Jinping admit that their business and diplomatic relations have much more values than Doklam like small issue artificially allegedly created by the Chinese army.
The book Securing India The Modi Way also talks about the surgical strikes happened at Myanmar and PoK to eliminate terror camps operating against India.
The book Securing India The Modi Way has the following table of content
Removing the cobwebs
The battle for J&K: Modi's Pak policy
Authorising surgical strikes
The surgical strikes in PoK
Pathankot: Averting a catastrophe
Teaching militants a lesson: the raid in Myanmar
Dealing with an assertive China
Acting West
Rebooting the defence Sector
Harnessing space for development & Security
Securing the Cyberspace
Latest Securing India The Modi Way Updates