Operation Samudra Maitri for Sulawesi Tsunami Hit Indonesia Features, Details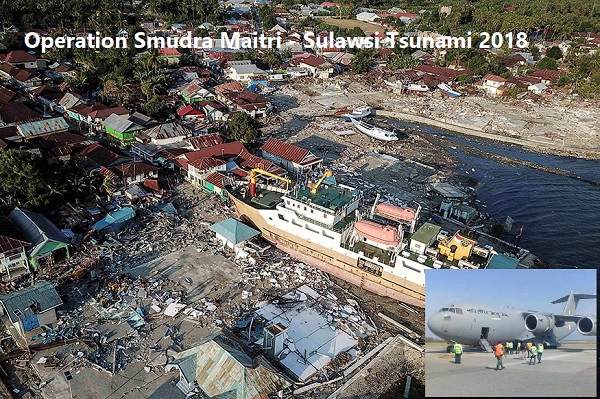 India's Operation Samudra Maitri for Sulawesi Tsunami hit Indonesia Features, Indian Navy Ships, Support details
In order to help the earthquake and tsunami victims in Indonesia, India has launched two wings of two aircraft and navy, including the relief material. The Ministry of External Affairs gave this information in a statement.
After the talks between Prime Minister Narendra Modi and Indonesian President Joko Widodo on October 1 on the telephone and acceptance of international assistance by Indonesia, India started operation 'sea friendship'.
Two air force crew and relief workers left for Indonesia. These aircraft include the C-130J and C-177. A medical team has been dispatched with tents and equipment from the C-130J aircraft. Temporary hospitals can also be built with the help of these tools. Materials such as drugs, generators, tents and water have been sent to provide immediate support to the C-17 aircraft.
The Navy's three ships - INS Arrow, INS Sujata and INS Shardul - are expected to reach Indonesian island Sulawesi on October 6. An earthquake of 7.5 magnitudes occurred in Indonesia, causing a Tsunami. Due to earthquake and tsunami, there has been a great devastation.