Updated By: LatestGKGS Desk
Uttar Pradesh Swachh Shakti 2018 history, features, details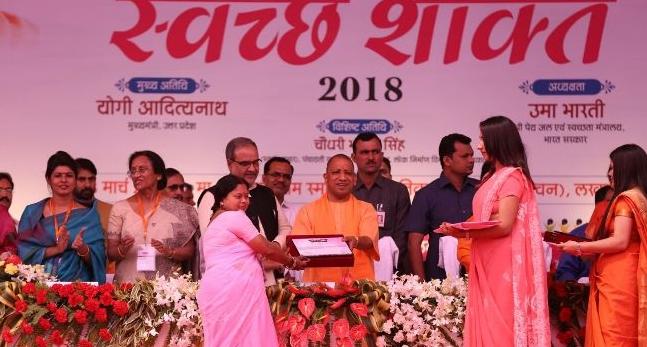 Uttar Pradesh Celebrates Swachh Shakti 2018 In Lucknow Details, Features, Purpose, Background
The Uttar Pradesh Government in collaboration with the Ministry of Drinking Water and Sanitation had organised an event Swachh Shakti 2018, a Women's Convention on 8th March 2018, on occasion of the International Women's Day in Lucknow.
The Chief Minister of Uttar Pradesh, Yogi Adityanath, Minister of Drinking Water and Sanitation, Uma Bharti, along with other Ministers and dignitaries addressed and honored women champions at the Swachh Shakti 2018 event.
In Swachh Shakti 2018 event, 8000 women Sarpanches, 3000 women Swachhagrahis and women champions from across country were recognised for their outstanding contribution towards making Swachh Bharat.
The Swachh Shakti 2018 event organised under Swachh Bharat Abhiyan, also conducted a special exhibition, the launch of a film celebrating Swachh Shakti and flagging off of 30 Swachhata Raths that will travel across State, spreading the message of sanitation at the grassroots.
Background
Across the country, many States are holding public events to honor Women Swachhata Champions as a part of Swachh Shakti 2018.
The Swachh Shakti campaign was launched in 2017, under Swachh Bharat Abhiyan, where over 6000 women sarpanches from across the country were gathered in Gujarat on the occasion of International Women's Day of Swachh Shakti 2017.
PM Narendra Modi during the Swachh Shakti 2017 event had addressed and honored the women sarpanches for their efforts and contribution in making India clean.