Updated By: LatestGKGS Desk
Lasers and its Applications, Revolutionary Technology and Science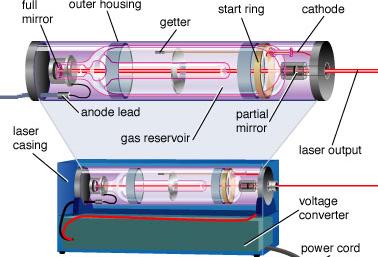 What is Laser? Innovator, Year of Invention, Applications
LASER: light amplification by stimulated emission of radiation
A laser is a device that emits light through a process of optical amplification based on the stimulated emission of electromagnetic radiation. A device that induces atoms or molecules to emit light and amplifies the light to different wavelengths, usually caused by a very narrow radiation beam. In general, the emissions cover a very small spectrum of visible wavelengths
Stimulated emissions produce a second photon identical to the stimulating one, such that the new photon is of the same form, wavelength, and direction – i.e. both of them are compatible with each other and with peaks and valleys in the form
Albert Einstein put the foundational plot of laser in 1917 and On May 16, 1960, Theodore H. Maiman operated the first functioning laser at Hughes Research Laboratories, Malibu, California, ahead of several research teams, including those of Townes, at Columbia University, Arthur Schawlow, at Bell Labs, and Gould, at the TRG (Technical Research Group) company
What are the Applications of Laser?
Hundreds

of

widely

diverse

applications

in

all

areas

of

modern

society,

including

consumer

electronics

,

computer

technology,

research,

medicine.

The first use of lasers in the daily lives of the general population was the supermarket barcode scanner.

The compact disc player was the first laser-equipped device.

The laser is also used in Fiber Optic Cables.

It is also used in alignment, measurement, and Scaling equipment.