Updated By: LatestGKGS Desk
Doomsday Clock moved 2 minutes to midnight in January 2018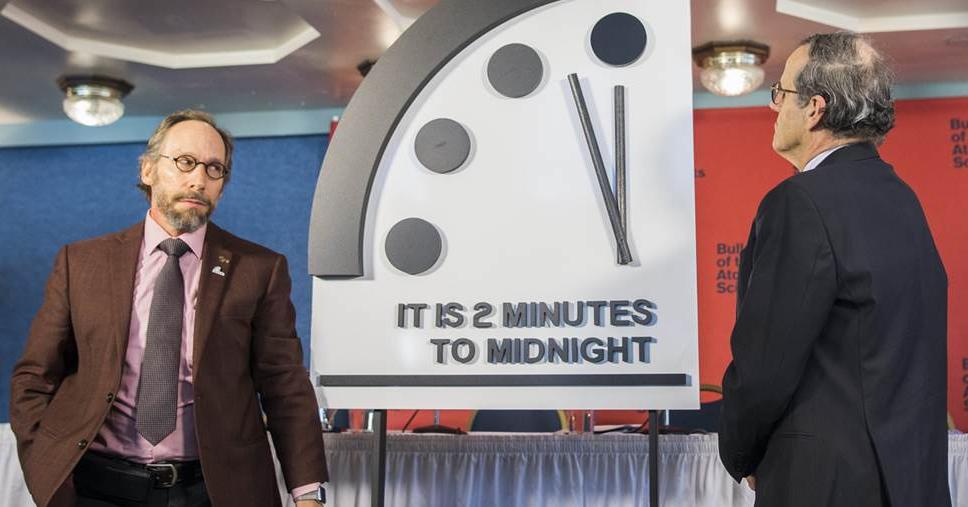 Doomsday Clock moved 2 minutes to midnight amid escalation in tension between USA and DPRK
The Doomsday Clock, a symbolic countdown to the world's destruction, is moved forward from 2.5 minutes to just 2 minutes to midnight.
The Bulletin of the Atomic Scientists (BAS) announced the move on 25th December 2018, in Washington DC, USA.
According to, BAS the move of 30 seconds ahead, was the retaliation of swelled concerns about a possibility of nuclear world war and global threats like devastating climate change etc.
BAS President and CEO, Rachel Bronson said that "in this year's discussions, nuclear issues took centre stage once again".
Rachel Bronson further, claimed that nuclear tests conducted by North Korea that severely increased tensions on the Korean peninsula, and led to a war of words with the USA.
BAS, officials also mentioned U.S President Donald Trump's often controversial tweets and statements are heating up the relations with North Korea.
Rachel Bronson referred to an increased competition of developing nuclear weapons among countries like China, Pakistan and India expectantly leading to nuclear threats.
Rachel Bronson also proclaimed that the progressing U.S nuclear strategy and rising tension between Russia and the U.S are also a contributing factor.