Updated By: LatestGKGS Desk
Bollywood Actor Akshay Kumar Launched Advertisement Campaign for Swachh Bharat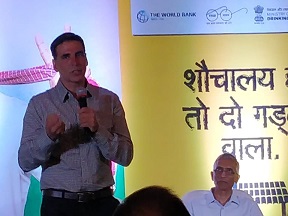 Bollywood Actor Akshay Kumar Launched Advertisement Campaign for Swachh Bharat Mission In New Delhi- Details, Features, About
Famous Bollywood Actor, Akshay Kumar, launched an advertisement campaign for the Swachh Bharat Mission (Grameen) or (Rural) on 27th May 2018 in New Delhi.
The advertisement campaign was launched at a Collectors Convention for Toilet Technology organized in New Delhi.
The new advertisement campaign is 1 minute long that focuses on promoting the twin pit toilet technology in rural India.
The advertisement featured Akshay Kumar also with actoress Bhumi Pednekar along with actor Shri Kumar. It demonstrates that how twin pit toilet technology can be used to make fertilizers for organic farming.
The advertisement campaign launched is an effort, supported by the World Bank, towards encouraging this twin pit technology using mass media.
The new advertisement can be searched on the YouTube channel of the Swachh Bharat Mission (Grameen) with a link: tinyurl.com/sbmgramin.
The new advertisement will be translated in several regional languages, and the Hindi version will start airing on television channels soon.
ABOUT TWIN PIT TECHNOLOGY
The twin pit toilet technology was invented in India and is the most well-suited toilet technology for rural India, and is recommended by Government of India and the World Health Organization.
Twin pit technology is scientifically proven with facts such as:
A pit in a standard twin-pit toilet model fills up in roughly 5 years for a 6-membered family
The waste may then be easily re-directed to the second pit
In 6 months to 1 year, the waste in the filled pit decomposes completely
This decomposed waste is safe to handle and rich in NPK (nitrogen, phosphorus, potassium) nutrients which makes it ideal for use in organic farming.