Updated By: LatestGKGS Desk
Forbes List: Bollywood Actor Akshay Kumar is World's 4th Highest-Paid Actor 2019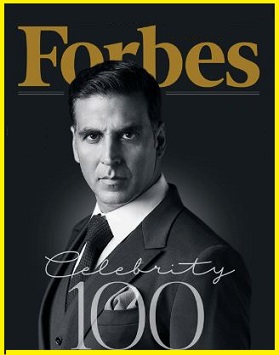 Forbes List: Bollywood Actor Akshay Kumar is World's 4th Highest-Paid Actor 2019: Details, Top 10 Rankings
Forbes on 22nd August 2019, released the list of world's highest-paid actors, Bollywood actor Akshay Kumar has been ranked 4th position on the list.
Akshay Kumar total earnings have been stated as USD 65 million (Rs 450 crore). He became the only Bollywood actor who has featured on the list.
Dwayne Johnson of Hollywood (Also known as The Rock in WWE) topped the Forbes list of world's highest-paid actors. He earned USD 89.4 from June 2018 to June 2019.
Earlier in 2018, Akshay Kumar secured 7th place on the list and Bollywood star Salman Khan was at the 9th position.
Forbes - Top 10 Highest-Paid Actors of 2019
1. Dwayne Johnson (USD 89.4 million)
2. Chris Hemsworth (USD 76.4 million)
3. Robert Downey Jr. (USD 66 million)
4. Akshay Kumar (USD 65 million)
5. Jackie Chan (USD 58 million)
6. Bradley Cooper (tie) (USD 57 million)
6. Adam Sandler (tie) (USD 57 million)
8. Chris Evans (USD 43.5 million)
9. Paul Rudd (USD 41 million)
10. Will Smith (USD 35 million)
According to the Forbes, all the rankings are based on the earnings estimated on data from Nielsen, Box Office Mojo, ComScore and IMDB, as well as interviews with industry insiders.