Updated By: LatestGKGS Desk
Constitutional Amendments (1992) and Decentralized Planning For Economic Development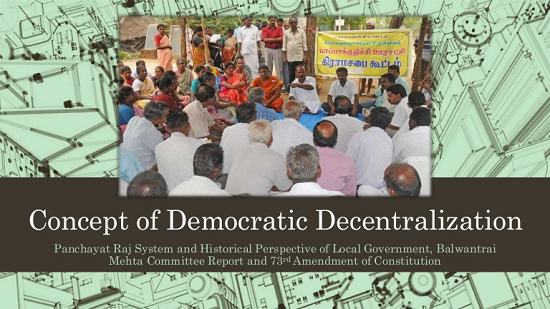 Constitutional Amendments (1992) and Decentralized Planning For Economic Development And Social Justice
The 73rd and 74th Constitutional Amendment Acts,1992 provides for democratic decentralization and is considered a revolutionary step and one of the most important political innovations in Independent India.
It faced the Gandhian Directive principles of State policy's Article 40 that looks to promote a system of decentralized planning for local socio-economic development which would be relevant, thus, leading to the achievement of the larger goal, which is, Social justice.
The Panchayati Raj Act and the Municipalities Act respectively are the 73rd and 74th Constitutional amendment act of 1992. They provide for a system of local self-government in which the people take upon themselves the responsibility of planning, provisions of community and welfare services, etc. and socio-economic and cultural Development through rural development plans and programmes.
The Panchayati Raj institutions involve a three-tier structure of democratic instruction at district, block, and village levels, as such Zilla Parishad (District level), panchayat Samithi (block level), and village panchayat (basic level) respectively.
This Act provides for article 234 in the Constitution and a District Planning Committee under 234 G as well as 29 subjects for jurisdiction placed under the 11th schedule of the Indian Constitution.
Latest Constitutional Amendments Updates