Updated By: LatestGKGS Desk
Elections 2017: Why is it important for BJP to win 2017 elections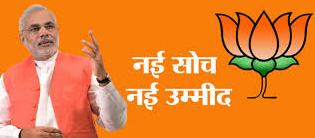 Important Key points why is it necessary for BJP to win 2017 elections
The Uttar Pradesh elections for Vidhan Sabha are expected to be held in frbruary or march 2017.
From last 15 years, BJP has been out of the elections or get very less seats.
With regard to this, Prime Minister stated that BJP was out of the election from last 15 years for the development.
After 2002 Rajnath government, BJP was not able to get the majority seats and was not able to make BJP government.
In Lok Sabha elections 2014, out of 80 seats BJP won 71 seats in the elections.
Prime Minister Narendra Modi's constituency is in Varanasi.
In the year 2002, BJP won 55% of the votes, in 2007, BJP won 44% of the notes while in 2012 BJP won 38% of the votes.
In Vidhan Sabha elections 2012, BJP got only 17% of the votes so it is necessary for BJP to win 2017 Uttar Pradesh elections.