Updated By: LatestGKGS Desk
10th january: World Hindi Day celebration all around the World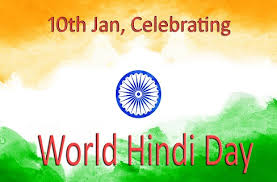 10th january: World Hindi Day celebration all around the World, facts
World Hindi Day is celebrated all around the World to mark the importance of Hindi on 10th January every year.
Social events, cultures and functions were held to spread the importance of language.
In India, National Hindu Day is celebrated on 14th September every year while the World marks this day on 10th January
This day is celebrated as on this day the Constituent Assembly adopted Hindi written in Devanagri Script as the official language.
Hindi has an official language has been explained in detail under Article 120 Part-V, Article 210 (Part-VI), Part XVII, Article 343, Article 344 and Articles 348 to 351.
Not only in India, Hindi is an official language in Fiji also.
Hindi is the fourth most spoken language in the World after Madarin, Spanish and English.
Latest World Hindi Day Updates