Updated By: LatestGKGS Desk
Daily Current Affairs 8th July 2018 GK GS Bulletins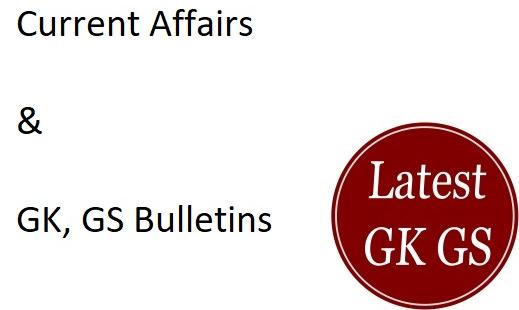 Latest Daily Current Affairs GK GS Bulletins
1. Pakistan court sentences ousted PM Nawaz Sharif to 10 years imprisonment in the corruption case
2. The Airports Authority of India 'AAI' to come up with Civil Aviation Research Organisation 'CARO' in Hyderabad
3. UN International Day of Cooperatives was observed on 7th July 2018
4. Prime Minister of Bhutan, Dasho Tshering Tobgay, is on a three-day visit to India
5. UNESCO has signed an agreement with Andhra Pradesh Government to set up a 'Design University' for gaming in Visakhapatnam.
6. Punjab government imposes a mandatory dope test for government job seekers
7. RBI gives permission to Bank of China to work in India as per SCO promise
8. Uttarakhand HC declares animal kingdom as a legal entity after Himalaya, Ganga
9. ISRO successfully carried out flight tests for the Crew Escape System.
10. Law Commission of India proposed to regulate legalised gambling, betting in sports, cricket
11. Uttar Pradesh government bans plastic bags & glasses from 15 July 2018
12. SBI Card has announced the launch of 'ELA' (Electronic Live Assistant), a virtual assistant for customer support and services.
13. National Association of Software and Services Companies (Nasscom) has opened a Center of Excellence (CoE) for Data Science and Artificial Intelligence in Bengaluru.
14. French filmmaker and writer Claude Lanzmann has passed away recently. He was 92 years old.
15. India has agreed to form a joint venture with Sri Lanka to operate the Mattala Rajapaksa International Airport in Hambantota.
16. The Union Ministry of Environment, Forests and Climate Change (MoEFCC) declared 438 sq.km. of the area around the Mudumalai Tiger Reserve in the Nilgiris as an eco-sensitive zone (ESZ)
17. PAN-Aadhaar linking deadline extended till 31st March 2019