Updated By: LatestGKGS Desk
Google Doodle Celebrates 72nd Indian Independence Day On 15 August 2018: Details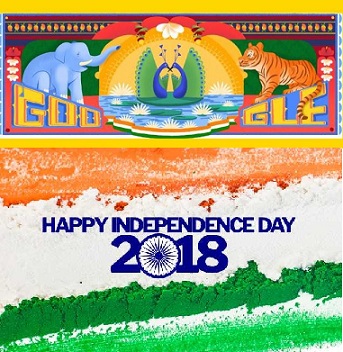 Google Doodle Celebrates 72nd Indian Independence Day On 15 August 2018: Details, Celebrations
Google's on 15th August marked the 72nd anniversary of India's Independence with a colorful and artistic Doodle depicting Indian truck's art.
Google's doodle featured a couple of peacocks crossing their beaks at the center and the national birds are flanked on both sides by a Bengal tiger and an elephant. Other elements in the doodle comprise India's national flower, the lotus with the sun rising in the backdrop and a riot of colorful flowers.
On this day i15th August 1947, India became an independent country by letting itself free from the harsh clutches of the British rule.
On 72nd Independence Day-2018, Prime Minister Narendra Modi will address the nation from Red Fort on the occasion, his fifth speech after the BJP-led NDA came to power in 2014.
For the first time ever, Prasar Bharati has partnered with Google and its video sharing platform YouTube to telecast the Independence Day programme live online.
Latest Google Doodle Updates