Updated By: LatestGKGS Desk
Google Doodle Celebrates Microbiologist Hans Christian Gram 166 Birth Anniversary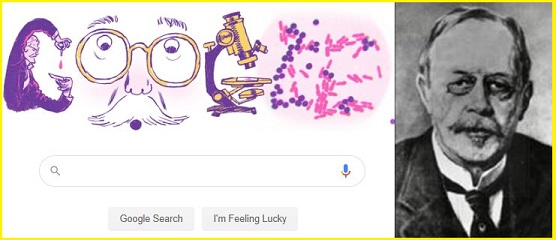 Google Doodle Celebrates Microbiologist Hans Christian Gram 166 Birth Anniversary: Details, Profile, Achievements
Today on 13th September 2019, the search engine giant Google is celebrating Danish microbiologist Hans Christian Gram's 166th birthday with a new Google Doodle.
This Google Doodle is illustrated by Mikkel Sommer, a Danish guest artist, who depicted the important work of Hans Christian Gram, who died on 4 November 1938.
Hans Christian Gram invented a staining technique called as 'Gram Stain' to identify and classify different types of bacteria. This technique is still used today in the modern world and has become the first stop for microbiologists identifying bacteria.
Hans Christian Gram full name 'Hans Christian Joachim Gram' was born on 13th September 1853 to Frederik Terkel Julius Gram, a professor of jurisprudence, and Louise Christiane Roulund in Copenhagen, Denmark. He died on 14 November 1939 (86-years).
Hans Christian Gram at the University of Copenhagen and was an assistant in botany to the zoologist Japetus Steenstrup
Hans Christian Gram acquired his M.D. in 1878 from the University of Copenhagen and held positions in several Copenhagen hospitals as an assistant. '
Hans Christian Gram in 1900, resigned his chair in pharmacology to become professor of medicine from where he retired in 1923.
Hans Christian Gram was also involved in the study of red blood cells in men. He became first among others to recognize that macrocytes were characteristic of pernicious anemia.