Updated By: LatestGKGS Desk
Kutchi-Sindhi Horse Recognised By Government of India: Details, Features, Highlights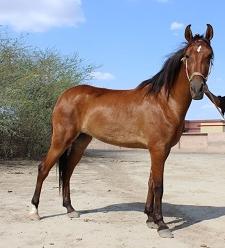 Kutchi-Sindhi Horse Recognised By Government of India: Details, Features, Highlights
A very popular Kutchi-Sindhi horse breed as a desert horse in Chandigarh India has now been recognised by the Government of India.
Kutchi-Sindhi horse was registered on August 4 by the Breeding Registration Committee of the Indian Council of Agricultural Research (ICAR).
Kutchi-Sindhi horse was registered by scientists of National Animal Genetical Resources Bureau (NBAGR) situated in Karnal, Haryana.
As per the report, Kutchi-Sindhi horse carries itself in a dry and semi-arid weather. It also has the ability to bear the maximum heat in worst hot conditions. It is almost a desert horse.
In India, there are four other species of horses namely Janskaris, Spiti, Bhutia, and Manipuri, besides Marwari and Kathianwadi horse species. Now the Kutchi-Sindhi horse has joined the list. Kutchi-Sindhi horse race has been recognized as the seventh species of horses in India.
Kutchi-Sindhi breed horse in India is close to 4,000. The design of these horses is very attractive. His nose is like a Roman and there are curved ears, which do not touch each other. Their length is 56 to 60 inches. At the same time, their backs are small.
Kutchi-Sindhi horse can also keep itself alive in the desert summer. Its nose consists of armor, which increases its stamina. This breed is often called Mustang (wild horse) of India.