ISRO unveiled crew model capsule for Gaganyaan Mission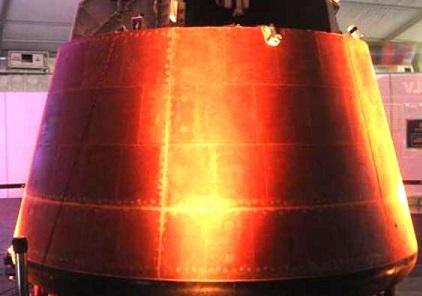 ISRO unveiled crew model capsule for India's first manned space mission 'Gaganyaan Mission': Details, Features, Highlights
The Indian Space Research Organisation (ISRO) on 6th September 2018, unveiled the crew capsule model for India's manned space mission 'Gaganyaan Mission' at the 6th Bengaluru Space Expo. It was unveiled by ISRO Chairman K Sivan. 0
ISRO exhibited the crew model and the crew escape model. A prototype crew model has already been tested by the ISRO.

In the crew model capsule, the three astronauts will be living for five to seven days in a 400 km orbit from the Earth's surface.

The capsule will have a thermal shield and it will turn into a ball of flame, traveling towards the Earth when they re-enter the atmosphere.
The capsule is expected to rotate around the Earth every 1.5 hours or every 90 minutes and astronauts will be able to witness sunrise and sunset.
The shield will ensure that the temperature inside the capsule is 25 degrees, but the astronauts can see the flames just through the window.

The astronauts can see India from space twice every 24 hours. They will conduct experiments on microgravity.

The capsule containing three astronauts will take 16 minutes from take-off to reach the desired orbit 400 km from Earth, and while returning will take 36 minutes to reach Earth.

The capsule is believed to land in the Arabian Sea, just off the coast of Gujarat where Indian Navy and Coast Guards will be on standby.