Updated By: LatestGKGS Desk
Google doodle celebrates Sir Mokshagundam Visvesvaraya 158th birth anniversary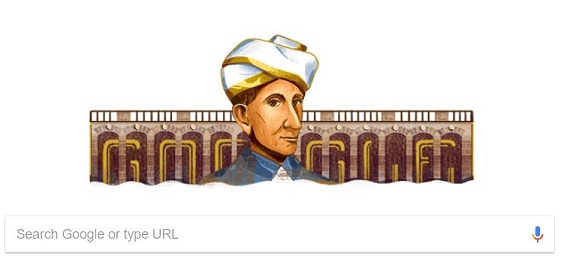 Google doodle celebrates Sir Mokshagundam Visvesvaraya 158th birth anniversary: Details
Google on 15th September dedicated its doodle to Sir Mokshagundam Visvesvaraya on his 157th birth anniversary.
Google's doodle paid the tribute to Sir Mokshagundam Visvesvaraya by putting an image of him with a building wall in the background, establishing his once held position as the Diwan of Mysore.
As per Google doodle, Sir Mokshagundam Visvesvaraya life's motto was "work is worship". Immersing himself into the art of engineering
Sir Mokshagundam Visvesvaraya also known as 'Sir MV' was the 19th Diwan of Mysore who served for the post from 1912-1918. Visvesvaraya was also known as an engineer, scholar, and a statesman.
Sir Mokshagundam Visvesvaraya was conferred with India's highest civilian honor, the Bharat Ratna, in 1955. For his dedication and work for people's good, he was known as the Knight Commander of the British Indian Empire (KCIE) by King George V.
Sir Mokshagundam Visvesvaraya birth anniversary in India is celebrated as Engineer's Day as a mark to commemorate his work achievements.
During Sir MV career as a civil engineer, he played the role of the chief engineer in the construction project of Krishna Raja Sagara dam in Mandya district. He had also served as chief engineer in building the flood protection system in Hyderabad.