Updated By: LatestGKGS Desk
India celebrates Antyodaya Diwas on 25th Sep to mark Pt Deendayal Upadhyaya birthday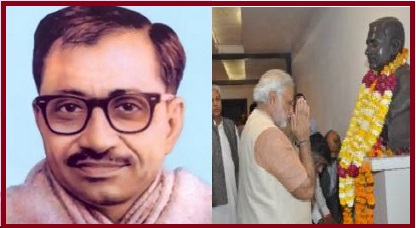 India celebrates Antyodaya Diwas on 25th Sep to mark Pt Deendayal Upadhyaya birthday: Details, Highlights, About
India celebrates Antyodaya Diwas which was observed on 25th September every year across the country to mark the birth anniversary of Pandit Deendayal Upadhyaya, a noted philosopher, historian, and political activist.
Antyodaya means uplifting of the weakest section of the society. Several activities including blood donation camps, seminar, symposia were organised on this occasion across the country.
About Pandit Deendayal Upadhyaya (Birth 1916- Death 1968)
Pandit Deendayal Upadhyaya was a well-known political personality and thoughtful philosopher. He was a coordinator and famous leader of Jan Sangh, which is considered a precursor to BJP (Bharatiya Janata Party).
Pandit Deendayal Upadhyaya was critic of both capitalism and communism. He advocated his own brand of Integral Humanism which combined morality in politics and human-centric approach to economics.
Pandit Deendayal Upadhyaya strongly supported swadeshi and small-scale industrialization. He upheld nationalistic ideals and believed that blindly adhering to Western ideologies wouldn't be a suitable path for India.
Pandit Deendayal Upadhyaya founded Rashtra Dharma Prakashan publishing house in Lucknow and launched Rashtra Dharma, a monthly magazine, to advocate principles he held sacred. Later he launched weekly Panchjanya and daily Swadesh. He wrote drama Chandragupta Maurya in Hindi and later wrote a biography of Shankaracharya.