Updated By: LatestGKGS Desk
25 September: Antyodaya Diwas 2019: Pandit Deendayal Upadhyaya Birthday Celebrations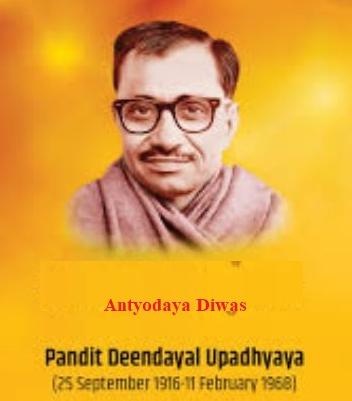 25 September: Antyodaya Diwas 2019: Pandit Deendayal Upadhyaya Birthday Celebrations
Antyodaya Diwas is celebrated on 25th September 2019 to commemorate the birth anniversary of Pandit Deendayal Upadhyaya, a noted philosopher, historian, and political activist.
'Antyodaya' means uplifting of the weakest section of the society.
On the occasion of Antyodaya Diwas everal activities including blood donation camps, seminar, symposia were organized on this occasion across the country.
Pandit Deendayal Upadhyaya (Birth 1916- Death 1968)
Pandit Deendayal Upadhyaya was a coordinator and famous leader of the Jan Sangh, which is considered a precursor to Bharatiya Janata Party (BJP).
Pandit Deendayal Upadhyaya was the founder of Rashtra Dharma Prakashan publishing house in Lucknow and launched Rashtra Dharma, a monthly magazine. He also launched weekly Panchjanya and daily Swadesh. He has written a drama on Chandragupta Maurya in Hindi and a biography of Shankaracharya.
Pandit Deendayal Upadhyaya was found dead in mysterious circumstances, and his body was found on 11 February 1968 on a railway track near Mughalsarai Junction railway station, Uttar Pradesh. In 2018, the railway station was renamed in his honor.