Updated By: LatestGKGS Desk
World Egg Day celebrations on 12th October 2018 Theme, Details, Aim, History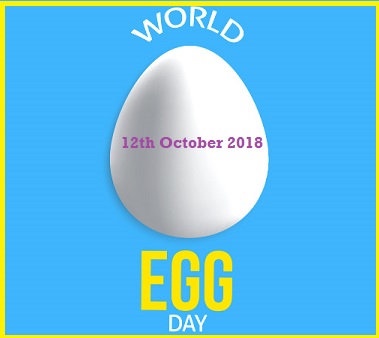 World Egg Day celebrations on 12th October 2018 Theme, Details, Aim, History:
World Egg Day is celebrated on 12th October 2018 as it is being celebrated every year on the second Friday of October around the world as decided by International Egg Commission (IEC).
World Egg Day-2018 theme is "Protein for Life".
World Egg Day celebration of this day gives a unique opportunity to help propagate the nutritive value of eggs in human nutrition. It also helps in increasing egg consumption, which is the main source of protein for good health.
World Egg Day focusses to promote an awareness about the nutritional value of the egg. On this day, the National Egg Co-ordination Committee (NECC) is conducting several programmes and campaign.
International Egg Commission (IEC) was formed in 1964 in order to give a global presence to egg producers and to promote and popularize egg consumption as part of a balanced diet.
World Egg Day was established at the IEC Vienna 1996 conference.
Eggs Importance
The egg white consists primarily of water (87 percent) and protein (13 percent) along with all the essential amino acids in the right ratios.
Eggs are low calorie and high in proteins.
Eggs also contain decent amounts of vitamins, phosphorus, calcium, selenium, folate, and zinc. Also, the protein eggs also contain vitamins B and D, and a good proportion of minerals that are important to health.
Egg's shell is also useful to makes farm product that cannot be adulterated.