Updated By: LatestGKGS Desk
Google Doodle Celebrates 108th Birthday of Artist Tyrus Wong on 25 October 2018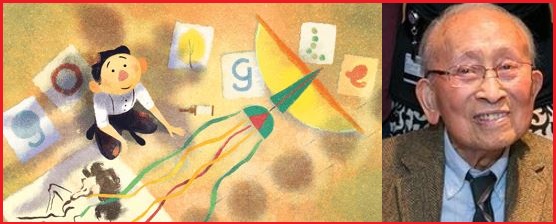 Google Doodle Celebrates 118th Birthday of Artist Tyrus Wong on 25 October 2018: Details, Profile, Highlights
The search engine giant Google Doodle is celebrating the 108th birth anniversary of Chinese-American artist and illustrator Tyrus Wong with a colorful doodle on 25th October 2018.
Tyrus Wong was a Chinese-born American artist painter, animator, calligrapher, muralist, ceramicist, lithographer, kite maker as well as a set designer and storyboard artist. He was also a film production illustrator, who worked for Disney and Warner Brothers.
Tyrus Wong is considered one of the most influential and celebrated Asian-American artists of the 20th century.
Tyrus Wong (Wong Gen Yeo) was born on 25th October 1910 in Taishan, Guangdong, China. He died on 30th December 2016 in Sunland-Tujunga, California, the U.S.
Tyrus Wong was presented a Historymakers Award (arts) by the Chinese American Museum and was inducted as a Disney Legend in 2001. He was given a Lifetime Achievement Award by the San Diego Asian Film Festival in 2015.
Today, Google doodle has showcased a video demonstrating Tyrus Wong creatives since his childhood and how he kept creating art until his old age.
Latest Google Doodle Updates