Updated By: LatestGKGS Desk
Ladakh restoration project wins UNESCO Asia-Pacific award for Cultural Heritage 2018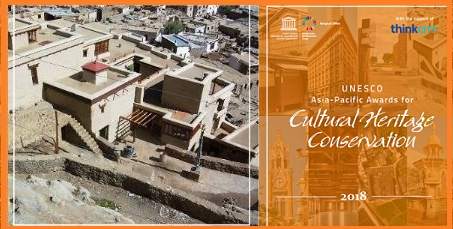 India's Ladakh Restoration Project wins UNESCO Asia-Pacific Award for Cultural Heritage Conservation 2018: Details, Highlights
The restoration of an aristocratic house project from partial ruin state in Ladakh undertaken by LAMO (Ladakh Arts and Media Organisation) Center has won 2018 UNESCO Asia-Pacific Award for Cultural Heritage conservation in Award of Distinction category.
LAMO is public charitable trust established to articulate an alternative vision for the arts and media in Ladakh.
The restored structure is strategically located at the foot of Leh Palace, contributes to the continuity of historic townscape of the 17th century. Its recovery establishes a precedent for conserving non-monumental urban fabric of Leh Old Town.
Under restoration project, LAMO had used salvaged and local building materials and indigenous construction techniques and skillfully introduced modern amenities to assure its ongoing use.
Other Awardees
1. Award of Excellence: It was awarded to the restoration project of early 20th-century Shijo-cho Ofune-hoko Float Machiya in Japan. It celebrates Kyoto culture by safeguarding city's endangered wooden townhouse typology as well as iconic annual Gion Festival.
2. Award of Distinction: LAMO Center, Ladakh, India
3. Award of Merit: 5 Martin Place, Sydney (Australia); Aijing Zhuang, Fujian (China); Commercial Bank of Honjo Warehouse, Saitama (Japan).
4. Honorable Mention: Hengdaohezi Town, Heilongjiang (China), Rajabai Clock Tower & University of Mumbai Library Building, Mumbai (India), Ruttonsee Muljee Jetha Fountain, Mumbai (India).
5. New Design in Heritage Contexts: Kaomai Estate 1955, Chiang Mai (Thailand) and Harts Mill, Port Adelaide, (Australia).
About UNESCO Asia-Pacific Awards for Cultural Heritage Conservation
It was established in 2000. It recognizes the efforts of private individuals and organizations that have successfully conserved structures and buildings of heritage value in the region.
It aims to encourage other property owners to undertake conservation projects within their communities, either independently or by seeking PPP (public-private partnerships).