Updated By: LatestGKGS Desk
India's Wildlife Crime Control Bureau wins Asia Environment Enforcement Award-2018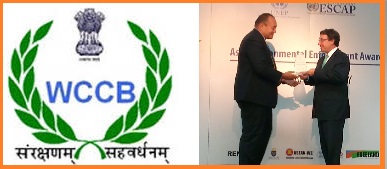 India's Wildlife Crime Control Bureau wins Asia Environment Enforcement Award-2018: Details, Highlights
United Nations Environment Program (UNEP) has awarded India's Wildlife Crime Control Bureau (WCCB) and its enforcement officer RS Sharath for Asia Environmental Enforcement Awards-2018.
They were selected under the organization and individual categories respectively for their outstanding contributions in combating the trans-boundary environmental crimes.
The Asia Environmental Enforcement Awards-2018 will be given by UNEP with UN Development Programme (UNDP), UN Office on Drugs and Crime, INTERPOL (UNODC), USAID, Freeland Foundation, and Government of Sweden.
This is second time in row that WCCB is awarded by UN Environment. Last yearit was awarded for its efforts in conducting and coordinating species-specific wildlife enforcement operation codenamed 'Operation Save Kurma'.
About Asia Environmental Enforcement Awards
The Asia Environmental Enforcement Awards publicly recognize and celebrate excellence in enforcement by government officials and institutions/teams combating transboundary environmental crime in Asia.
The Asia Environmental Enforcement Awards are given to outstanding individuals and/or government organizations and teams that demonstrate excellence and leadership in the enforcement of national laws to combat transboundary environmental crime.
The thematic scope of these awards covers any transboundary environmental crimes, including illegal trade in wildlife and illegal trade in chemicals or waste.
Latest United Nations Environment Programme (UNEP) Updates