Updated By: LatestGKGS Desk
National Pollution Control Day On 2nd December: Details, Aim, Significance, History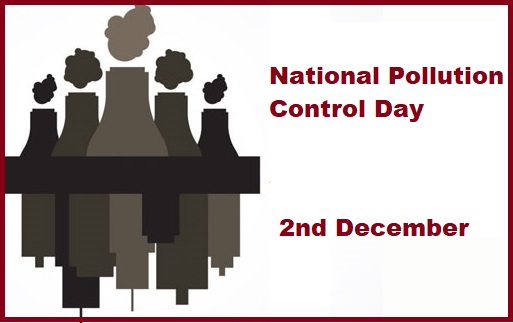 National Pollution Control Day On 2nd December: Details, Aim, Significance, History
National Pollution Control Day or National Pollution Prevention Day is observed on 2nd December every year on 2nd of December in India with an aim to make aware the people and industries about the need of Pollution Control Acts.
National Pollution Control Day also observed to give the honor in memory of the thousands of human beings who had lost their existence because of the Bhopal gas tragedy.
National Pollution Control Day is observed by spreading awareness among people regarding how to fight and prevent pollution.
National Pollution Control Day focuses to make people aware & spread awareness in the industries that cause various pollution like water, air, soil, noise and affect the environment and human health.
Bhopal Gas Tragedy
Bhopal gas tragedy occurred in the night of 2nd December and 3rd December 1984, because of the unintentional discharge of the poisonous chemical known as Methyl Isocyanate (also called MIC) as well as some other chemicals released from the Union Carbide Chemical Plant positioned in the Bhopal city.
Bhopal gas tragedy was the worst in the world's industrial history and people there still continue to witness physical and mental disabilities.