Updated By: LatestGKGS Desk
International Day of Solidarity with the Palestinian People On 29 November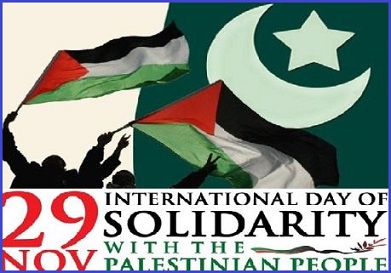 International Day of Solidarity with the Palestinian People On 29 November 2018: Details, Aim, Significance, History
International Day of Solidarity with the Palestinian People is observed on 29th November around the world. The day is also known as Solidarity Day.
International Day of Solidarity with the Palestinian People was first declared by the United Nations General Assembly (UNGA) in the year 1977.
The date of 29 November was chosen because, on that day in 1947, the UN General Assembly adopted resolution 181 (II), which came to be known as the Partition Resolution.
This day provides an opportunity for the international community to focus its attention on the fact that the question of Palestine remains unresolved.
A special bulletin containing the texts of the statements delivered and messages received on the occasion of the International Day of Solidarity is published annually by the Division for Palestinian Rights of the United Nations Secretariat.
About Israeli–Palestinian Conflict
The ongoing struggle between Israelis and Palestinians began in the mid-20th century
Origin: Jewish immigration, sectarian conflict in Mandatory Palestine between Jews and Arabs etc.
Latest United Nations Updates