First-ever India-ASEAN InnoTech Summit held in New Delhi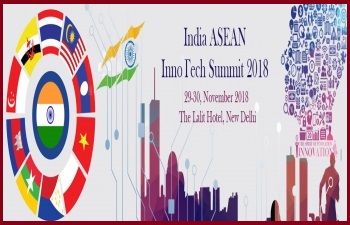 First-ever India-ASEAN InnoTech Summit held in New Delhi: Details, Agenda, Highlights
The first ever India-ASEAN InnoTech Summit held in New Delhi. It was organized by Federation of Indian Chambers of Commerce & Industry (FICCI) in association with the Department of Science & Technology (DST) and Ministry of External Affairs.
India-ASEAN InnoTech Summit was the participation of ASEAN member countries in this summit were Brunei, Cambodia, Indonesia, Lao PDR, Malaysia, Myanmar, Philippines, Singapore, Thailand, Vietnam.
India-ASEAN InnoTech Summit also saw an exhibition to showcase best Indian Innovative Technologies, with potential implementation in ASEAN region was also organized. Besides this summit also provided the platform for B2G meetings i.e. one to one meeting with the ASEAN delegation of ministers, advisors, and other dignitaries.
Agenda's
Explore avenues of cross-country partnerships with Indian R&D-based enterprises.
Capture global trends in technology management and strategy
Advance progressive ideas for policy reforms and regulatory environment
Create avenues for industry-academia-government partnerships
Build capacities for market assessment and rapid commercialization of research
Promote best practices in financing, strategy, and leadership
Connect local and global research & development community for collaborative engagement
Association of Southeast Asian Nations (ASEAN)
ASEAN is a regional intergovernmental organization comprising 10 Southeast Asian countries, which promotes intergovernmental cooperation and facilitates economic, political, security, military, educational, and sociocultural integration.
10-member ASEAN comprises of Indonesia, Malaysia, Thailand, Singapore, Philippines, Vietnam, Myanmar, Cambodia, Brunei, and Laos. India is a full dialogue partner of the ASEAN.