Updated By: LatestGKGS Desk
IDFC Bank and Capital First merged to create IDFC First Bank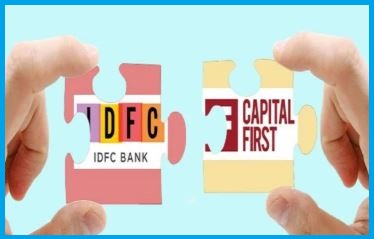 IDFC Bank and Capital First merged to create IDFC First Bank: Details, Features, Significance, Highlights
The IDFC Bank and the non-banking financial company Capital First has merged completely on 18th December 2018 into a new entity to be called as IDFC First Bank.
This merger between IDFC Bank and Capital First was announced on 13th January 2018. The new bank i.e. IDFC First bank will have a loan asset book of Rs 1.03 lakh crore.
V Vaidyanathan, who is the founder and chairman of Capital First Ltd, has been appointed as the Managing Director and Chief Executive Officer of the newly formed IDFC First bank.
IDFC Bank had made a deal with Shriram Group for a merger but the deal was called off as both the entities could not agree on the share swap ratio.
About Non-Banking Financial Company (NBFC)
An NBFC is a financial institution that does not have a banking license but provides banking services. Operations of NBFCs are regulated under a country's banking regulations but it is established under the Companies Act, 1956.
The Reserve Bank of India regulates the NBFCs under Reserve Bank of India Act, 1934.
NBFCs can provide loans and credit facilities, offer savings and investments products and can offer money transfer services to the customers. However NBFCs, unlike Banks, cannot accept demand deposits from customers.
NBFCs also are not a part of the country's payment and settlement system. Therefore, they cannot offer cheque facility to their customers.