Updated By: LatestGKGS Desk
Good Governance Day 2018 Celebrations 25 December Theme, Details, Objectives, History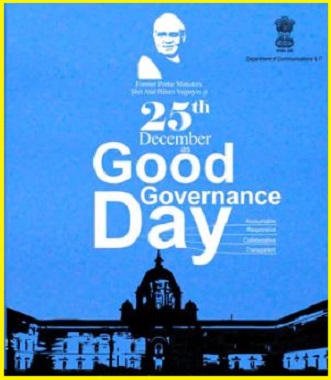 Good Governance Day 2018 Celebrations 25th December: Theme, Details, Objectives, Significance, History
Good Governance Day is observed on 25th December every year across India on the occasion of the birth anniversary of former Prime Minister Atal Bihari Vajpayee.
Good Governance Day was established in 2014 to honor Atal Bihari Vajpayee by encouraging awareness among the people of accountability in government. In a bid with this principle, the Good Governance Day has been declared to be a working day for the government.

On 23rd December 2014, Atal Bihari Vajpayee, and Pandit Madan Mohan Malaviya (posthumously) were announced as recipients of India's highest civilian award 'Bharat Ratna',
On the occasion, NDA Government led by PM Narendra Modi announced that the birth anniversary of Atal Bihari Vajpayee would be now commemorated annually as the Good Governance Day in India.
Good Governance Day coincides with the Christmas Day celebrations on 25th December, Although, there is not a holiday. The day is celebrated by organizing a variety of activities in the government offices, schools, colleges and other educational institutions..
Good Governance Day Objectives
To make people aware about the government commitment for providing a transparent and accountable administration in the country.
Good Governance Day is celebrated to enhance the welfare and betterment of the people.
It is celebrated to standardise the government functioning and to make it highly effective and accountable governance for the citizens of the country.
To implement the good and effective policies to complete a mission of good governance in India.
To enhance the growth and development in the country through good governance.
To bring citizens closer to the government to make them active participants in the good governance process.